The Weblog
We send out cool articles and farmer highlights using a different email program. You can see the archives of those emails here and through our facebook page! We use this "weblog" every Friday evening we let you know the market page is accepting orders (look for the little add to cart buttons next to products). Northeast Georgia Locally Grown was officially OPENED on Monday, April 26th, 2010 and we are so thankful that you are helping support fresh local foods each week.
Subscribe to an RSS Feed
Locally Grown - Availability for June 25, 2014
Hey Local Food Lovers,
We're a little late with the message this week, but luckily eight and half hours is still a long time to get your orders in for pickup this Wednesday. Hopefully this quick e-mail is a good reminder that there's oodles and oodles of good local food this week for the getting. So put in an order if you haven't, or add to your order if you reduced the fridge down over the weekend.
For those who may still be trying to learn the navigation of the Locally Grown website we have something that can help. Andrew Linker, our new Gainesville Market Manager put together this great little tutorial that should help you find what you're looking for a little faster. He's planning to do some other web videos that may speed up your understanding of this great system for ordering local food from dozens of farms.
CLICK HERE for the YOU TUBE VIDEO on how to find products on Locally Grown
Today is the LAST DAY to order GEORGIA MOUNTAINS FARM TOUR passes through Locally Grown. This is the EASIEST way to get your passes and brochures so just click on your cart and you'll get your brochure with your food on Wednesday (but write a separate check for $35 to GMFN). This event is the only occasion all year to get to visit the farms that grow the food for Locally Grown (as well as several other great Georgia Mountain Farms that don't sell to Locally Grown).
The spring items will be fading fast from the market with all this heat so items like cabbage, kohlrabi, carrots, swiss chard, rhubarb, and more will be disappearing one by one. Enjoy them now while you can. I did this past Friday with some incredible cole slaw on a SLAW DAWG.
The cole slaw recipe is posted on our facebook page so go check that out if you're a coleslaw fan.
We've been watching with great interest as our Gainesville Market slowly gathers speed. We now have 43 individuals signed up for the market to receive these e-mails. This week we've got 10 orders for that location so far. Not too shabby! We're also slowly getting to know the folks who are returning each week which is fun. Our other market locations definitely consist of a core of regulars who we see week after week and exchange recipes with, life stories, and a sense of common community that loves good food from great farms.
We hope all the new folks are enjoying it so far, and don't be afraid to share with us your thoughts. This market keeps evolving as it grows and some of the best ideas we've had originated from customers.
PS – It was mentioned to us that some people are confused by the long list of items attached to this e-mail. That's just for quick reference if you'd like to see if we have a specific item available this week. TO ORDER YOU ALWAYS want to click on the link below that takes you to our website. Log in and start shopping.
Ok, that'll do it for this week. Thanks for EATING LOCAL and……
EAT WELL,
Justin in Habersham
Chuck in Rabun
and Teri and Andrew
Northeast Georgia Locallygrown Availability list for June 20
Hi Locavores,
What a busy time of the year. Almost everybody we see at the market seems to have a lot going on.
Several of your local farms including Amy and I here at Mill Gap are racing the clock to get caught up and prepare for the Georgia Mountains Farm Tour next weekend.
Amy is still in the field right now picking vegetable for SimplyHomegrown Market in Clayton tomorrow.
I have to get back there right now or else.
Have a great weekend and enjoy local, fresh, healthy food.
Locally Grown EXTRA
Hey Local Food Lovers,
Forgot to mention that TODAY is the last day to purchase Georgia Mountains Farm Tour PASSES for the EARLY BIRD discounted rate of $30. The price will go up tomorrow to $35.
The easiest way to purchase is to simply add to your cart and we'll deliver your brochures with your order this week. Just remember to write a separate check (cash is fine too) made out to GMFN (short for Georgia Mountains Farmers Network).
We're open until 9PM tonight!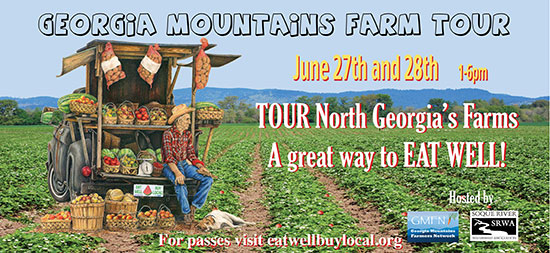 Thanks,
Justin
Locally Grown - Availability for June 18, 2014n
Hey Local Food Lovers,
As usual I have a feast of stories and meals I'd love to share with you this week, and I probably won't have time for them all. But before I get into any of that let me mention a few reminders.
We currently have two great meat vendors at Locally Grown, BG Farms and O'Hana farms. BG Farms has been with us almost since the beginning, We met Lynda Brady the farmer for BG Farms through Chuck Mashburn (one of our founders and the Tiger Market Manager) since they both sold to Athens Locally Grown. Sustainable meat producers are still few and far between in our area and Lynda was unique in that at different times she might have beef, pork and chicken products. She's also located pretty far from the rest of us, in Madison, GA. However, since several of our growers still sell to Athens Locally Grown every Thursday, it's a perfect way to do a little distribution collaboration. After orders for BG Farms are placed for our market Friday through Sunday, Chuck or someone else goes to pick them up the following Thursday and keeps them in a freezer. That's why orders of meat from BG Farms aren't delivered to market until the following Wednesday. Over the last four years I can't guess how many cow's, pigs and chickens we've transported to customers in our area, but it's been a lot. In fact we just invested in a new freezer to store what we expect may be some increased meat sales. They are great products and so worth the extra wait it requires to get them. We hope you'll give it a try. Every once in a while some of the more common cuts we'll keep up here and you'll actually get them the week you order so don't be surprised if you get lucky with your order.
O'hana Farms started selling their pork in the last year or so and everything I've had from them is simply terrific. There are some really interesting details about the way O'hana raises and feeds their hogs that really influence the unique flavors of the pork, but I'll have to save that full story for another day. You'll notice they also provide some helpful hints on how to cook and prepare some of their more unique cuts of meat. These tips are so useful at getting us out of our routines cooking the same thing over and over again. I love any tips that growers provide in their product descriptions of their favorite ways to prepare specific foods. It's a great way to experience new flavors and you get to know the tastes of the farmer in the process. We all have unique tastes in this market, and learning and sharing how to prepare foods is part of the experience.
Speaking of that, I'm gonna mention my favorite way to cook fennel since I've been enjoying all weekend. Fennel is one of my personal favorite crops to grow, and it's one of the more interesting to learn how to incorporate into different styles of cooking. If you have a dynamite dish with fennel, or any of the products you're enjoying lately please post it to our facebook page
Ok, here's the dish. It's called Moroccan Spiced Chicken and Fennel.
1 teaspoon paprika
1/2 teaspoon ground cumin
1/2 teaspoon ground coriander
1/2 teaspoon ground ginger
3/4 teaspoon sea salt
1/4 teaspoon black pepper
1 lb boneless skinless chicken breast
1 tablespoon olive oil
2 cups fennel, thinly sliced
1/4 cup fennel leaves, chopped
1 medium red onion, cut into 1 inch chunks
1 cup orange juice (fresh squeezed but not neccessary)
1/3 cup fat-free chicken broth
2 teaspoons cornstarch
1 tablespoon water
1 Combine spices with pepper and 1/4 teaspoon of salt. Season chicken to coat both sides.
2 Preheat large nonstick skillet, add olive oil. Cook chicken breasts about 5 minutes each side. Remove chicken and keep warm.
3 Add the fennel and onions to the pan and saute for 7 mnutes or so. The fennel should be tender but not mushy. If the pan appears to be too dry, add a tablespoon of water. Should be enough to moisten without steaming the vegetables.
4 Add juice, broth and the last 1/4 teasppon salt and bring to a boil for about 1 minute. Add constarch mixed in 1 tablespoon of water. Stir until it just begins to thicken, about 2-3 minutes.
5 Add chicken and chopped fennel , cook 2 more minutes.
6 Chicken and fennel and onions goes really well on top of rice with sauce spooned on top.
It's the bomb. Fennel and the sweet citrus flavor of the orange juice really complement each other. You can double up on some of the spices if you'd like as the Moroccoan flavors are subdued by the fennel and oj, so don't be afraid to be bold with the spices if you like them.
I also wanted to mention, everyone should CHECK BACK TO LOCALLY GROWN more than once over the weekend and into MONDAY. Since we extended the ordering times earlier this year (now Friday to Monday rather than what used to be just Sunday to Monday) lots and lots of farmers add items later in the weekend after they've had time to check their fields and realize that something is ready to go. We've got lots of new items this week and several of them were added after Friday night. Things like our first tomatoes (unfortunately sold out already), cucumbers, and napa cabbages. So even if you place an order on Friday, check back on Sunday and Monday as their may be something special waiting for you.
We had a great time at our FIRST GAINESVILLE pick-up day. We want to thank our 15 first customers for being there from the very beginning! Help us spread the word! We may go ahead and send out a press release in the next week or so now. We feel pretty confident that our new setup is gonna work great and we can now start spreading the word far and wide.
Here's what the new pickup looks like:
Well there's much more I'd love to get into but that's probably enough for tonight.
Hope you had a great weekend and don't forget to……
EAT WELL,
Justin in Habersham
Chuck in Rabun
and Teri and Andrew too!
Northeast Georgia Locallygrown Availability list for June 13
Good evening Locavores,
We are happy and excited with last weeks market opening in Gainesville. We look forward to market growth and especially to making the connection between farmers and local food afficianados.
For Saturday market news, SimplyHomegrown A Farmers Market is relocating to the Covered Bridge Shopping Center in Clayton, Ga. Across the parking lot from McDonalds. Tomorrow is their first market at the Covered Bridge.If you are in Clayton stop by between 9:00am and 1:00pm.
Have a nice weekend and enjoy local food.
Locally Grown - Availability for June 11, 2014n
Hey Local Food Lovers,
It's FINALLY arrived…. Locally Grown is officially adding a 3rd PICK UP site in Gainesville, GA! Hallelujah! We've been planning this expansion for over a year (seriously since February), and now after turning 4 years and 2 months old, Locally Grown is growing in a big way. We have a feeling this week may have a momentous impact just like our first day back in April 2010.
Now before I get excited describing all the delicious food offered this week, we should give a quick history for those who are brand new to Locally Grown.
Locally Grown is a website market which is a fairly new, innovative and efficient way to get lots of local food to lots of customers. It all started with Eric Wagoner in Athens, GA back in 2004. Eric was a software engineer and a farmer who recognized that a web based market could save farmers a lot of time. He started designing a website so growers could post all their products and availability each week to restaurants (eliminating a bunch of phone calls). This market was called Athens Locally Grown. With a website featuring photos, prices and descriptions, consolidating availability lists and orders from multiple farms, Eric realized, why not just have customers order off this site as well! He did, and then more and more customers started shopping, finding the convenience of choosing so many items from so many farms while in your pajamas, appealing. Customers were out-buying the restaurants and the market grew and grew. In 2006 Eric took the time to redesign the site so that anyone anywhere in the world could start their own Locally Grown market. He did a good job. Today there over 400 Locally Grown markets spread from the Virgin Islands to Europe (though most are in the US). You can get an idea of it's impact with this impressive map of LGs
Proximity is an important thing in the spread of good ideas and it didn't take long before some smart mountain farmers discovered Athens Locally Grown and thought it might be a good thing in Northeast Georgia as well. Given their experience selling to LG in Athens they could see that Locally Grown has lots of benefits to farmers. First, the ease of being able to package each customers order, afix a label, and drop it off at a pick up site allowed them to head back to the farm. Every once in a while it gave them an extra few minutes in the parking lot to trade ideas with other farmers too (which can be useful). In our case since we run a shuttle between pickup locations it allowed each farm's products to reach customers that were slightly beyond their easy driving distance. So a farmer located way up a mountain can drive 20 minutes and drop off, then in just a few hours, customers an hour or more away can pick it up fresh. That little bit of collaboration with other farmers is a key, key part of Locally Grown.
Ah the shuttle run. It's so simple and we're looking forward to our first one to Gainesville on Wednesday. It all starts at 2pm when farmers drop off all their products in coolers designated for either Tiger, Clarkesville and now Gainesville. We try and be extra careful to put the right product in the right coolers (but an accident may occur once every blue moon). Then during this "behind the scenes" part of Locally Grown is when farmers are joking around politicking, gossiping. They are an ornery bunch. But they grow good food so we tolerate all this on account of the awesomeness they produce.Then coolers filled, gab shot, each farmer gets a check and goes home to lay on the couch. Meanwhile, their food all mingled together in freshly sealed bags with people's names on them gets whisked via various wheeled vehicles across Northeast Georgia. And minutes later, at 5pm magically assembled is the food from as many as 20 farms or more all bundled together just for you.
So that's basically how it works.
But before we talk food….let me add. Northeast Georgia Locally Grown has become a fun little community of people these last four years. Customers, farmers, kids, dogs, cats, all. We're a pretty lively bunch if we don't say so. That community is about to expand to our nearest neighbors Gainesville (like it's literally happening right now), and if it's anything like what we've experienced so far, it's gonna be a lovely relationship. So get ready for our first great date!
Ok, now that you're turned on! Holy cow we got artichokes in North Georgia this week. That's hot! Just from memory I think we also got carrots, peas, strawberries, bread (some all organic, some gluten free), eggs, fennel, cabbage, of course lettuce, kale x10, ground pork sausage, squash, maybe asparagus, garlic, onions, radish, more. Nearly 400 items.
We got to visit Melon Head Farms on Friday which was what I would call "crazy fun." Hard to believe it's only 3 weeks away and you can visit them too. The Georgia Mountain Farm Tour 2014 is almost here (June 28 and 29). In fact this week and next week are the last weeks to buy a weekend pass for $30. The best way to order is through Locally Grown. Just add to your basket then write a separate check when you come to market to "GMFN" which stands for Georgia Mountains Farmers Network. It's a whole nother thing we do (but lots of us same people). If you don't know what the tour is check it out here
Ah, an idea!
Watch last year's video of the FARM TOUR and we know you'll want to come.
http://vimeo.com/69288616
And to make it even more interesting, the fellow who shot this video is now your new Gainesville Market Manager, Andrew Linker. Hey Andrew! Andrew met all our Clarkesville market customers two weeks ago when he did a guest spot at that market. They loved him, you'll love him, and he's a local Gainesvillian so he'll be your main man when it comes to Locally Grown.
We also want to thank the Northeast Georgia History Center for being the absolute best place in Gainesville to serve as hosts for our little market. They were more than interested in the idea, they loved it and their enthusiasm has made us even more happy to be coming (that's you Julie and Jeff)! We think it's a match made in heaven.
That reminds me, new Gainesville Customers should park their cars in the parking lot next to the History Center (closer to Brenau) rather than drive under the portico. That we we can keep our markets pedestrian friendly and you'll see how nice the portico and sidewalk is at the front of the Center. It's the perfect place to collect your food. And without cars you'll want to hang out for a minute. So no cars under the portico. Lot is around the bend and we'll have parking signs soon (maybe very soon if you know anybody got any?). We envision folks hanging out checking out the progress at the Victory Garden you'll walk by every week. Like we said, the place is perfect.
Ok, I'd better wrap it up. We try and write some sort of message each Sunday to kind of communicate what's new. Sometimes long, sometimes short. I can tell already tell we'll be writing with a new audience in mind so BIG WELCOME to all you new Gainesville customers and thank you for finding us. There's roughly 25 of you, and last I checked at least 9 of you already ordered. There's still time till Monday at 9PM. So tell a friend. Those of you who come Wednesday will be the very first ever! We hope you like it, if you do let us know, if you don't let us know too. It's local food, from all over the mountains and we hope it helps you….
EAT WELL,
Justin in Habersham
Chuck in Rabun
and
Teri and Andrew (assorted)
Northeast Georgia Locallygrown availability list for June 6
The market is now open for orders. Have a great weekend and we will see you at the pick up on Wednesday.
Locally Grown - Availability for June 4, 2014n
Hey Local Food Lovers,
What a great weekend. It was certainly a good one to enjoy. And I got to do some of it on a bicycle. Munching now on what may be getting close to the end of strawberry season. My, hasn't that been fun! The rising tide and ebb of a select number of foods is fascinating to watch. Spring is my favorite for short sweet treats like that. Asparagus, cabbage (can't wait to try Taylor Creek's), carrots, cilantro, beets, swiss chard, kohlrabi, even garlic scapes. And oh how I love the exotic fennel. Time to whip up a dish with that this week.
Speaking of exotic, I love ethnic markets in the mountains. They are always family affairs, and that makes it better already. The one I popped in on today after biking up and down hills had some homemade fried plaintains. I experimented with a cane juice to drink (drinks like basil seed and aloe vera are also worth having). If you can find the Cornelia Post Office just look up the hill.
So many things I could talk about. Most everybody knows that Gainesville is gonna start this FRIDAY right? We feel like we are about to go out on a first date… and we already know it's gonna be good!
To all the Gainseville local food lovers checking us out, thanks for finding us, that is super cool. It's a kind of crazy idea for a market we know, but we've been at it now and it's worked great for 4 years. Try it for yourself. It's not perfect, but it's pretty perfect. And by collaborating, farmers have been able to transport a lot more food to a lot of very loyal customers these last many years.
Transport is a weird concept to apply to our food but there it is, every bite we eat gets transported. Which is why closer is better. It's literally fresher! And with the Georgia Mountains Farm Tour coming up in just one month you can taste how much fresher by visiting some of Locally Grown's farms. Transport yourself to your food for a change. Early bird pricing for your whole car is available for just two more weeks and 2 days ($30/2 days/ whole car), so what you waiting for. Plop it in your cart now and you'll get your strawberry bumber sticker and your strawberries in the same week.
all the details
FARM TOUR 2014
http://georgiamfn.blogspot.com/
Since this is the last message before ordering starts Friday, and since you can only kick off a brand new market once, now is a great time to forward this to a friend (near Hall County) and tell them to order this FRIDAY. 20 orders would be a cool number to hit. And if you like us on the FB, that could be what we need. It's cool to be at the first one, and we're gonna try and make it great. Come help.
Gonna go stretch those calf muscles and climb in the bed, soon dreams of local food shall fall in my head.
This reminder is right onion time. Spread it around.

Thanks and EAT WELL,
Justin in Habersham
and
Chuck in Rabun
and
Teri and Andrew
Northeast Georgia Locallygrown Availability list for May 30
Good Evening Locavores,
The market is full of fresh new vegetables. The afternoon showers this week have created an explosion of weeds but, they have been great for the growing vegetables too.
Order early for great selections and check the market again Sunday or Monday for late additions.
Have a wonderful weekend and eat local.
Locally Grown - Availability for May 28, 2014
Hey Local Food Lovers,
Happy Memorial Day! Hopefully everybody is relaxing and enjoying themselves today. We're fortunate to have a little break at the beach but we been munching on North Georgia treats we packed with us the whole time. In fact our whole family got to enjoy a huge Leah Lake salad with grated carrots and kohlrabi from Taylor Creek Farm. Tomorrow we're gonna fry up some BG farms sausages, and we've been toting fresh strawberries to the beach in a cooler everyday. We're probably snacking better than anybody down here.
We're gonna be quick today so there's just two things we want to mention. First, were preparing for the Locally Grown expansion (Gainesville opens for it's first sales in less than two weeks) and recently realized we need to invest in a new freezer to accomodate all the ice blocks we need to keep stuff cold, and to keep meat frozen. Before going out and buying a new one we figured we should ask our friends and supporters if they happen to know of anyone trying to get rid of a freezer (or even a fridge with a freezer) that we could acquire for cheap or free. Doesn't need to be fancy. Any tips would be appreciated. Just send an e-mail to me at soque@windstream.net.
Second, we're only a month away from the Georgia Mountains Farm Tour on June 28 and 29. In addition to having brochures and passes on sale now (only $30 through June 16, then $35 after – you can just add it to your cart – then right a separate check to GMFN when you pickup on Wedensday) we also are seeking some help to make sure the TOUR is a success.
If you'd like to VOLUNTEER to help one of our FARMS receive guests during the tour it would be a great way to assist the cause and make some good food friends for life. We're still looking for about 8-9 volunteers for both Saturday and Sunday. If you volunteer for 5 hours on one day, you can attend the tour for free the other day , and get a free FARM TOUR t-shirt! It's a super cool way to see a bunch of farms that sell through Locally Grown and help our network raise funds that pay for our insurance policies and help market the region as a region with good Local Food! To volunteer e-mail Maggie the day you'd like to volunteer and she'll let you know which farms we're still trying to pair with volunteers. Her e-mail is gmfnfarmtour@gmail.com.
For all the details on the TOUR visit the website
http://georgiamfn.blogspot.com/
Keep telling your friends about our Gainesville opening in just a week and a half!
EAT WELL,
Justin in Habersham
and
Chuck in Rabun