The Weblog
Welcome to Northeast Georgia Locally Grown's weblog. Mainly this is a collection of e-mails that we send out each week to kick off the market, but also tells the tale of our little market. The market was officially OPENED and our first orders taken on Monday, April 26th, 2010 with our pick-up on Wednesday, April 28th, 2010. Though small at the beginning our market has grown pretty well, Selling $25,000 by December 31, 2010, and nearly $40,000 by our anniversary on April 28th, 2011. The site will be opened for shopping Friday evening at 9:00pm and remain open for shopping until 9:00pm Monday evening.
Subscribe to an RSS Feed
Locally Grown - Availability for December 18, 2013
Hey Local Food Lovers,
This is it! The final market of 2013! It's been a fantastic year for all of us and we're super excited about some new opportunities in 2014. We'll save those for the new year.
The market grew by 12% this year from $40,000 in sales in 2012 up to $46,500. We want to send a heartfelt thank you to each one of you who supported the market this year, even if it was just a few orders. Local farmers love growing food for local people and it really means a lot that so many of you support us week after week.
My wife just put in a double order this week since it'll be a long long time before we can order again. Just a reminder that we'll be closed the week after this for Christmas, and then the following week for January 1. So that means we'll be back on January 8th. I hope we can make it without running out of good food. I recommended last week stocking up on some root veggies like sweet potatoes, potatoes, beets, turnips and jerusalem artichokes.
Here's an idea on how to cook some of those root veggies. Buy a whole chicken, chop up some fresh rosemary and garlic and put it in a small bowl with three tablespoons of olive oil (reserve 1 tbsp of this), rub the chicken under the skin with the other 2 tbsp oil, let marinate about 3 hours. Turn on oven to 350. Put bird in for 20 minutes on a pan covered with aluminum foil. Cut up any or all of the vegetables listed above and toss in remaining olive oil and rosemary. Pull out chicken and add vegetables. Cook another 45-60 minutes.
Be sure and let the chicken cool before cutting it. If you cut a chicken right out of the oven all the juices will drain out. It's really easy and really yummy!
There's so much more I'd like to say but we'll keep it simple and wish all of you a Happy Holidays! We'll probably send out an e-mail while we're gone just to say hi. Don't forget to try some incredible seasonal sweets. Amy's Flan is the bomb! I've had two already and one more on the way. Moravian cookies are also super cute and flavorful. That coffee cake still looks delicious. And there's bunches more. Dog snacks for stocking stuffers.
EAT WELL,
Justin in Habersham
and
Chuck in Rabun
Northeast Georgia Locallygrown availability list for Dec. 19
Good Evening Locavores
Next week Northeast Georgia locallygrown will be closed for Christmas. The following week the market will be closed for New Years day.
That means you will really need to stock up this week to last until the next market day.
Luckily there are a lot of great products listed to choose from.
Stay warm and dry and eat local.
Locally Grown - Availability for December11, 2013
Hey Local Food Lovers,
Holiday items! That's really all I want to say this week. The sweets and brand new this week the WREATHS from Moonshadow FARMS. Two years ago I bought a wreath from Moonshadow and it's the prettiest wreath that I've ever purchased and at a great price. With a pretty awesome Christmas Party coming up next Friday I've already got one in my cart again this year to make the home look happy and warm. Don't delay. There's only two Locally Grown's before Christmas. Go ahead and get it now so you can enjoy it longer.
In case you forgot there's still a few shopping days for you to go out and buy a tasty craft beer or two to bring to my Christmas Party next Friday. I'm not gonna post the photo here again but the details are Friday, December 13, 6pm at 237 Wilson Street in Clarkesville. Bring two beers (The same beers please as everyone will want at least a taste) or one big beer, and a potluck dish. The party is open to all customers of Locally Grown, Soque River Watershed Association members, farmers, and otherwise cool people and their friends. Do try and find some interesting beers if you can. The best beer of the night will win a prize.
There's some great root crops on the site tonight. Parsnips, celery root, jerusalem artichokes, and of course turnips, potatoes, beets, carrots, etc. I've been juicing this week and it makes me happy.
We will not be open on Wed the 25th or the following Wed January 1st so plan ahead and order a bunch of these roots crops either this week or next to tide you over until we return the second week of January. And thanks again to everyone who has been coming early to market on cold, wet nights. Even though market is open until 6:30, when we get to go home by 6pm it makes us oh, so happy. Don't feel bad if you just can't get there early, but if you can, we appreciate it.
Ok, that's good for tonight. Details on the party are also on our facebook account so feel free to refer folks there.
https://www.facebook.com/pages/Northeast-Georgia-Locally-Grown/353580121384273
Happy Holiday's almost!
Justin in Habersham
and
Chuck in Rabun
Northeast Georgia Locallygrown availability list for Dec.11
Good evening Locavores
The market is open for orders. We hope you will find lots of goodies for a week of healthy meals. Stay dry and warm and enjoy local food.
Locally Grown - Availability for December 4, 2013
Hey Local Food Lovers,
It's gonna be short and sweet this week. Speaking of sweet Sylvan Falls is offering half a dozen of their holiday specialities. I highly encourage you to try one or more of them yourself this week and then if you enjoy it buy one for your family or friends for the holidays.
Better yet, bring one to the BEER TASTING Christmas Party at my house on December 13th. All Northeast Georgia Locally Grown shoppers are invited to attend. This is the 5th year for this event. Here's how it works. All attendees are asked to bring two 12oz beers or one 22oz beer to enter into the beer tasting contest (must be the same beers so there's enough for folks to taste). Each beer will be put into a bag with a number and you'll have the chance to taste each beer with no undue influence. You'll have a little score sheet and at the end of night the beer or beers with the highest score will win a prize for the lucky person who brought them.
Last year we had 35 entries. To keep things mellow it's also a potluck so that our bellies are full with good food as we imbibe. Homemade brew is of course most welcome. Otherwise all other beers should be from "craft" breweries meaning small and independently owned.
Mark your calendars and come meet farmers, bakers, and customers from both the Clarkesville and Tiger locations. We're all one happy family spread out all over North Georgia.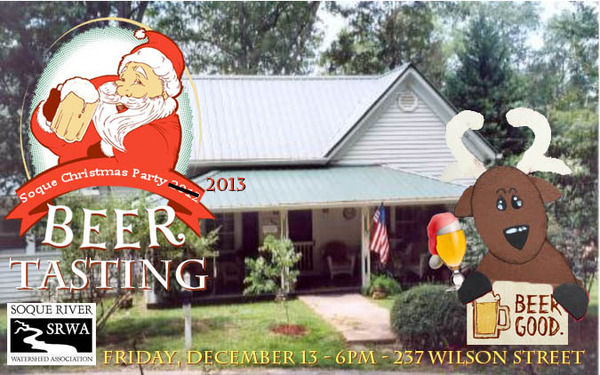 Address is 237 Wilson Street, Clarkesville, GA
Until then EAT WELL,
Justin in Habersham
and
Chuck in Rabun
Northeast Locallygrown Availability list for Dec. 4
Good Evening Locavores
We hope you all had a blessed Thanksgiving.
You will find a great selection of local food available this week but, what stands out most of all for me are the holiday treats.
Sylvan Falls Mill has gone all out for the holiday season again. Linda's buche de noel is truly an exceptional, beautiful, and delicious treat. If you have not tried this rare delicacy you don't know what you have been missing.
Have a great weekend and enjoy local healthy food.
Locally Grown - Availability for November 27th, 2013
Hey Local Food Lovers,
I hope that many of you will have time to buy some goodies before your THANKSGIVING festivities this week. We're gonna be very, very close to our $150,000 goal before end of year. We've already shaved the gap down to just over $1,100 per week in sales needed.
There's some interesting new items this week. Amy's FLAN is already in my cart. I've never had anything she's made that isn't delicious. There's also some festive holiday decorations in the form of bittersweet berries from O'hana farms (they also had Brussel Sprouts that unfortunately sold out….I'd have like some of those myself…they do still have celery root if you're willing to be experimental). Habersham Bakers is back this week (they are on an every other week schedule so stock up) with a very interesting sourdough with Cinnamon and Raisin.
It's Jerusalem Artichoke season at Mill Gap Farm. Since I always have folks ask me how to cook them when they see them or hear of them for the first time here's my favorite recipe which is on the Recipe section of the website. You have to search under ALL RECIPES to find it.
Lemon Chicken with Jerusalem Artichokes
Ingredients:
• 1 teaspoon lemon zest
• 2 fresh lemons
• 2 Tablespoons olive oil, divided use
• 4 chicken thighs
• Kosher salt and freshly ground black pepper
• 1 cup chicken broth
• 1/4 teaspoon ground saffron
• 1/2 pound Jerusalem artichokes (sunchokes), peeled
• 10 garlic cloves, peeled and halved
• 1/4 cup heavy cream
• 1 Tablespoon fresh thyme leaves
• 1/4 cup pine nuts, toasted
• Hot, cooked rice
Preparation:
Finely grate 1 teaspoon of zest from the lemon and set aside. Juice both of the
lemons (discarding pulp) and set aside.
Place a large, deep, heavy skillet over medium-high heat. When hot, add 1
tablespoon of olive oil and swirl to coat the bottom of the pan. Sprinkle chicken
thighs on both sides with salt and pepper. Place skin-side down in the hot pan and
quickly brown them, turning only once. Remove to a plate and keep warm.
Add the lemon juice, lemon zest, remaining olive oil, chicken broth, and saffron to
the skillet. Bring to a boil, stirring to loosen any browned bits. Add Jerusalem
artichokes and garlic cloves. Return chicken to the skillet, along with any
accumulated juices.
Reduce heat and simmer about 45 minutes, until chicken and sunchokes are tender.
Stir in cream and thyme leaves. Taste and adjust seasoning, if need be. Return to a
simmer and cook an additional 10 minutes.
Serve over cooked rice and sprinkle with pinenuts to garnish.
Be sure and grab some Sylan Falls Rolls to go with this meal or any meal for that matter. Burton Mountains also has some good looking beet greens this week and watercress.
I hope everyone enjoys the holidays and EATS WELL!
Justin in Habersham
and
Chuck in Rabun
Northeast Georgia Locally Grown Availability list for Nov. 27
Good evening Locavores
Now is a good time to plan your Thanksgiving menu and include fresh local products from Locally Grown.
Leah Lake is taking the week off but there are lots of greens and other vegetables available this week.
Don't forget the great breads available; whole grains and gluten free products too.
Have a great weekend and enjoy fresh local food.
Locally Grown - Availability for November 20th, 2013
Hey Local Food Lovers,
Locally Grown is on the cusp of a pretty cool milestone. We're just $7,000 away from selling $150,000 in our first 4 years of operation. Considering we average about 20 farms listing per week that would average about $7,500 per farm over the 4 years or almost $2,000 per farm per year (actual earnings vary of course but you get the idea). With the end of year close at hand we just wanted to let you know how your food purchases are benefiting local farmers. The Locally Grown market has become an important part of many local farms earnings especially during these colder months.
We only have 5 markets left in 2013 (since we'll be closed on Christmas Day) which means if we sell $1,400 each week for the next 5 weeks we'll make it to the $150,000 mark. We've been selling about $1,000 per week, but would need to increase that by about $400. While that's pretty ambitious, it would be so great to make it and with the holidays at hand now is a great time to be thinking of gifts for friends and family.
This week would be a great week to bust that $1,400 goal by several hundreds since we're already at $1,200 in sales and WE HAVE Split Creek Farm's GOAT CHEESES this week. This is a special occasion as we only offer these treats a few times a year. Most of these cheeses do freeze well so consider buying some as Christmas presents for a month from now.
If you can forward this e-mail to a few friends. We have until 9pm tonight (Monday) to order. We plan to get a press release to the local papers to make a big push for Locally Grown before the end of the year. Thanks for being a part of this increasingly vibrant part of our North Georgia communities. And remember you could be eating moist delicious pasture raised, organic feed fed chicken sprinkled with goat cheese crumbles with a side of baked sweet potato and fresh stewed kale this week. Now doesn't that sound good.
Eat Well,
Justin in Habersham
and
Chuck in Rabun
Northeast Georgia Locallygrown availability list for Nov.20
Good evening Locavores
Despite experiencing a hard freeze this week there are still lots of vegetables available.
Also there are the great meat products available from B G Farms and Smart Chicks.
This is a good time to stock up on skin care products to handle the cold dry air of winter.
Have a great weekend and enjoy local, healthy food.